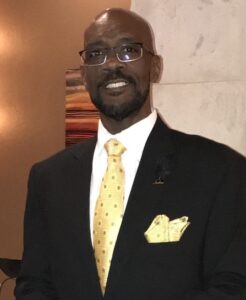 John Martin
John Martin is a transformative leader who values knowledge sharing and talent development. He is committed to positively impacting his sphere of influence through coaching, mentoring and teaching.  He has a passion for mentoring, developing future leaders and civic engagement.
John has spent his adult life in San Antonio and considers the city "home".  He completed his Bachelor of Science in Biology at the University of Texas at San Antonio and began working in higher education at the University of Texas at San Antonio. His 25-year career has allowed him to work with both university and community college students to help develop both emerging and advancing student leaders and guide the college experiences of a diverse student population.
Outside of his career in education, John is involved community organizations and efforts to contribute to the community.  His spiritual compass in calibrated at Redeeming Grace Christian Church under the leadership of Bishop Brent Bryant.  He is a member of the Psi Alpha Chapter of Omega Psi Phi Fraternity, Inc. and a Life Member of the fraternity.  He serves on the Board of Directors of the 100 Black Men of San Antonio, Inc. and is the advisor to the Collegiate 100 Chapter at St. Philip's College.  Through these affiliations, John is able to be of service to the youth of San Antonio and contribute to making a difference in the community.
Finally, none of these endeavors are possible without the love and support of his family.  John has been married to his wife and life partner, Angel, for more than 25 years.  They are the proud parents of John D., Taylor and Darius, each enjoying success on their life journey.  His family keeps him grounded and fuels his desire to make a difference and fill the world with positive energy.