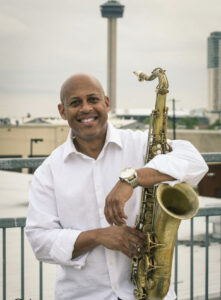 BillyRay Sheppard
BillyRay Sheppard is a jazz saxophonist who has lived in San Antonio Texas for many years. He has been performing since the 80's, and his musical roots run deep; having his earliest musical experiences in Blues, R & B, Reggae, Latin, Tejano and Country bands. It's his love for music that keeps him grounded and his love for jazz that keeps him performing.
He is a proud graduate of Fox Tech High School and St. Mary's University. Soon after academic life, he pursued many different avenues in the field of music.
BillyRay is a first-call smooth jazz performers in the San Antonio area, having shared his talents on stage with notable genre stars Steve Oliver, Peter White, Adam Hawley, Will Donato, and Darryl Williams. He's also performed with Roy Hargrove, Johnny Bush, Julio Iglesias, The Dirty Dozen Brass Band and many more. With his saxophone's rich, warm, soulful tone, he has made a name for himself on the local and national music scene.
In November 2017, BillyRay released his debut CD entitled "Silk", co-written and produced by guitarist Steve Oliver. The album contains the single "Heels and Pearls" which has reached the TOP 20 airplay chart on smooth jazz radio.
For the past five years BillyRay has produced a very popular monthly "Second Sunday" Smooth Jazz series in San Antonio. These concerts, performed by Billy Ray and his band, serve charity organizations in and around the community. To date, these charity events have successfully gifted over $40,000 in donations to deserving non-profit organizations throughout the community.